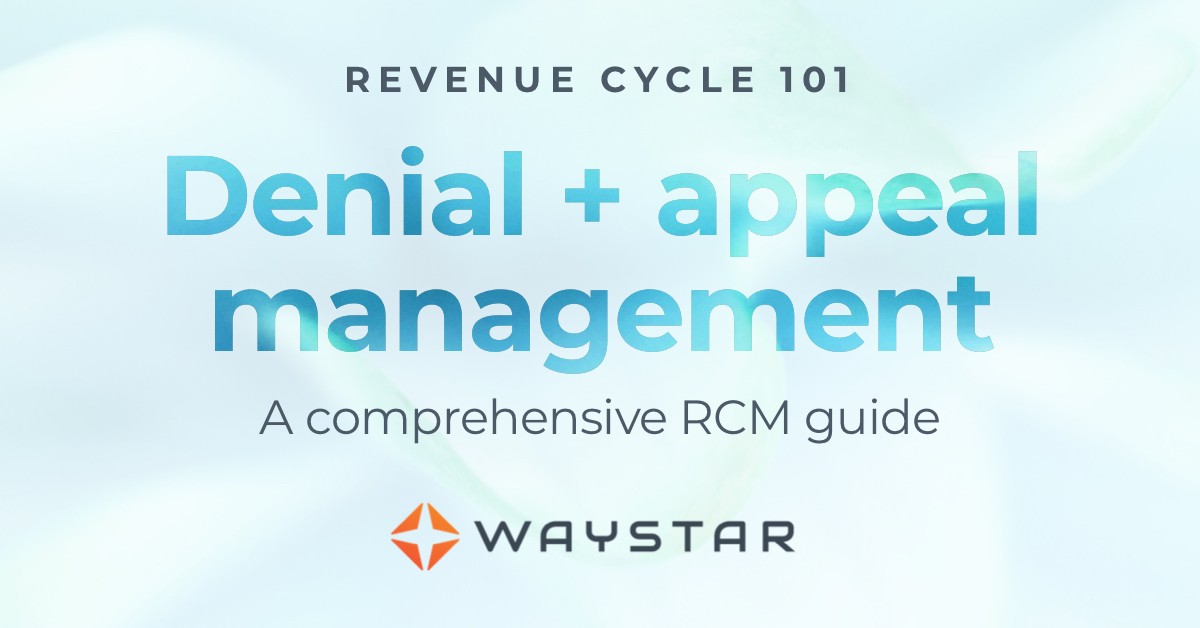 [Note: This post was originally published in August 2021 but was updated in May 2023]
In the healthcare revenue cycle, denial and appeal management go hand-in-hand.
Use this denials management and appeals reference guide to get all your key questions answered.
Denials management + appeals reference guide
What is denial management in healthcare?
Denial and appeal management is an umbrella term for all the processes that make up a provider's attempts to:
Mitigate potential denials, and
Take action if a denial is submitted and rejected by a payer (appeals).
Denials have always put a heavy strain on providers' time and resources, and they've become an even bigger pain point in recent years.
Roughly 82% of denials are preventable, yet more than half are never reworked. The problem worsened post-pandemic: In 2021, 69% of healthcare leaders reported an increase in denials, and estimates put the cost to rework a claim at $25 per denial.
Denials management + appeals reference guide
How does denial management in healthcare work?
Denial management in healthcare focuses on actions to help providers assess and prevent denials. Central tasks include:
Tracking factors and trends across workflows or carriers
Pinpointing critical areas of concern
Making a plan for process improvements
The appeal process in medical billing focuses on follow-up. Once a rejection has been received and identified as a candidate for re-submission, staff — or, better yet, intelligent automation — begins the appeals process laid out by a provider.
Reasons for healthcare denials
The appeal process in medical billing is dictated by the reason for the denial as much as by the provider's resources. Reasons can be complex, with a wide range that includes:
Demographic data errors
A lack of pre-certification
A lack of coverage for a patient for a procedure or treatment
Improper patient enrollment
Insufficient documentation explaining the need for a medical procedure
Once a provider has a denial and an explanation, they can proceed to appeal if they believe it will be overturned.
Denials management + appeals reference guide
What is the appeal process in medical billing?
At this point, staff must proceed according to the insurance company's given appeals process. Manual steps in this process vary but often include:
Calling to clarify confusion around denial codes
Obtaining and recording reference numbers when contacting insurance
Collecting relevant or corrected documentation and patient information
Obtaining and completing required forms
Sending an appeals letter to address an invalid code, incorrect name, or modifier
Resending any appeals that failed to include all required documentation or information
Once an appeal has been submitted, billing staff must continue to monitor for updates, often by calling directly. Many providers still manually manage the steps in this process, which can eat up hours of time and resources.
Denials management + appeals reference guide
How does denial + appeal management affect the healthcare industry?
Denial and appeal management are consistently a concern for providers of every size and specialty. For providers who still manage these processes manually, COVID-19 added new strains on accuracy and productivity.
Research indicates that:
On top of that, pandemic-related uncertainty has been compounded by increasing costs, lagging patient and service volume, and wage inflation — all of which puts a huge amount of pressure on organizations' bottom lines.
Denials management + appeals reference guide
What can automated denial management do?
Many of the errors that cause denials can be traced back to administrative issues that happened at the start of the claim lifecycle.
For example, an analysis of denials processed between July 2019 and June 2020 found that 86% were avoidable. What caused them? Front-end errors related to benefit information, coverage details, and missing or invalid claim data.
Clearly, there's a wide mix of factors that can contribute to denials — location, patient population, etc. But all denials face a common hurdle: the burden manual procedures put on administrative staff.
Like many other administrative processes, many providers rely on a mix of manual and electronic procedures to handle denial and appeal management. But the industry's continued reliance on manual procedures is beginning to have a negative effect.
Why providers need automated denial management now
Studies have found that it costs $118 to appeal a denied claim, and these costs are exacerbated by the industry's reliance on manual processes. While providers see the promise of automation, there's a lot to consider before moving forward with a solution, and competing priorities to weigh. However, the industry has reached a tipping point where potential savings clearly outweigh concerns.
Did you know that the U.S. healthcare system could save up to $16.3 billion by automating old or outdated processes? And that's on top of the $122 billion the industry already saves through automation. While there are dozens of statistics like that to consider, the benefits of automated denial management — reduced strain on resources and staff, huge boosts in accuracy and revenue — are undeniable (especially when denials are at an all-time high).
Denials management + appeals reference guide
What to look for in a denial + appeal management solution
Leading solutions for denial and appeal management take a comprehensive approach.
Look for solutions that:
Use exception-based workflows (only issues outside of the norm require humans)
Prioritize appeals based on cash value so staff can concentrate on productive appeals
Support staff with extra tools like auto-generated payer-specific appeal forms
Offer robust analytics so you can track and measure progress in problem areas
Keep disruptions at a minimum while working efficiently with your existing systems
Come from a partner that can demonstrate a strong history of seamless integrations
Finally, be sure to ask any partner you consider for proof that (1) they've overturned a sizable number of denials for clients, and (2) they can show you — quickly and easily — how much cash they are recovering for your organization at any time.
Discover the way forward
When 75% of providers rank denials as their greatest rev cycle challenge, you need a solution now — not tomorrow. The good news? Automated denial management — the kind with proven, real-life results — already exists.
1,100+ pre-populated payer-specific forms
100% paperless appeal process

89% reduction in appeal processing time
They also get results that have included:
See the easier way to work denials.