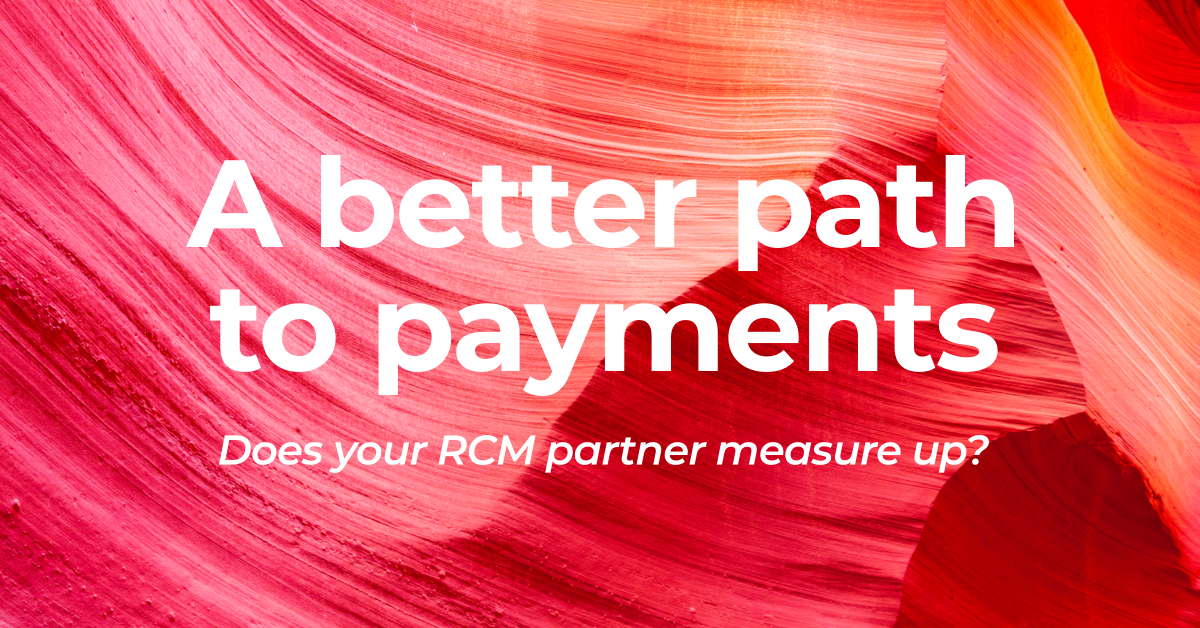 When it comes to patient payments, are you missing out on important opportunities to capture revenue? If your RCM partner can't keep up, you could be unknowingly harming your health organization's growth.
With disconnected front-end and back-end processes as well as ever-changing payer rules, outdated revenue cycle management technology can cause revenue leakage that impacts your bottom line. Issues like poor charge capture, increased denials and missing or inaccurate eligibility all slow down your revenue cycle, delaying critical funds to your organization.
Inefficient workflows and poor visibility across systems can cause the work to pile up for your team members, keeping them away from more important tasks face-to-face with your patients. Manual efforts to collect and submit information to payers can not only create more errors in data, but it can also increase turnover and burnout among your team.
In addition, unproductive efforts to clear patients and manage claims can increase the cost to collect and even result in delayed payment. That means tedious re-working for your staff, inefficient appeal efforts and reconciliation challenges that add to the stress.
Don't settle for an RCM provider that doesn't have your back. As a premier partner, Waystar helps simplify and unify the entire revenue cycle—all because we are invested in your success.
Not all clearinghouses are created equal
Don't trust your revenue cycle to just anybody. Your RCM partner is supposed to make your financial and administrative workflows easier, not create more confusion and frustration. If you are using multiple revenue cycle technologies from different companies or an outdated, inferior system, it's time to make a change.
From start to finish, Waystar offers smart solutions for every step of the revenue cycle. Our cutting-edge platform:
Covers all claims + remits. Our superior revenue cycle platform takes care of HB, PB, dental and more so you don't have to worry. We streamline reporting and eligibility as well as consolidate vendors and processes to make things easier.
Connects to all payers. We have web and EDI connections to 5,000+ payers. Coverage includes commercial, Medicare and Medicaid in all 50 states in the country, along with real-time integration with Medicare FISS.
Focus on service + security. Our single, intuitive platform is HITRUST certified to safeguard sensitive patient payment information. We pride ourselves on providing world-class service with 98% of our clients highly likely to recommend Waystar.
How does your current RCM partner compare? Don't sell yourself short—Waystar gives your health organization the right tools to stay ahead by streamlining payments and simplifying common workflow issues.
Sending the right data the first time
Denial prevention is the key to quicker reimbursement, so equipping your revenue cycle with simplified and accurate technology is essential.
At Waystar, our cutting-edge system mitigates denials and ensures payment, faster. We have smart tools to show real-time eligibility and uncover hidden coverage. Capturing this data pre-billing allows an efficient financial experience for your patients.
Alleviate stress on your team with automated data retrieval and follow-up from 80% of payers. Our enriched, pre-populated data improves visibility and reduces effort from your staff, freeing up time to focus on what really matters—caring for patients.
Get an unparalleled enrollment and edit process within our platform. It contains more than one million continuously updated acute edits and customizable edit controls. Plus, enrollments are easy with concierge level support and E-signatures.
We focus on getting information right the first time, so you don't have to worry.
Boost efficiency in the rev cycle
Waystar reduces the number of manual touches in the revenue cycle. That way, your team can add human touches where necessary, instead of getting bogged down in repetitious and time-consuming administrative tasks.
Our technology seamlessly integrates with existing workflows, while simplifying submission and denial management. Our certified experts have the specialized knowledge and experience to help your revenue cycle work for you, not against you.
We focus on speed, accuracy and efficiency to streamline collections across the board. This includes paperless processes for appeals, attachments and EOBs as well as digital enrollments. In our platform, you also have access to a wealth of pre-populated data to get things done faster.
Artificial intelligence (AI) and robotic process automation (RPA) are smart ways to reduce work in your revenue cycle. In fact, according to a Health Management Academy study, 62% of organizations deploying automation within their revenue cycle could reallocate staff members to other areas.
With automated technology, it's easy to simplify your everyday tasks and even retain team members by reducing the stress of tedious administrative tasks.
Getting faster + fuller payments
We are on a journey to simplify and streamline healthcare payments. Whether outstanding items are overwhelming your queue or staff members are still manually posting payments, Waystar has a ready solution to solve your revenue cycle problems.
Our technology helps you hone in on what really matters. We help you focus on the right appeals with propensity of payment tools as well as predictive analysis to forecast remit timing.
Automated payment processing keeps collections coming without the manual effort from your team. Waystar automatically reconciles 95% of payments as well as automated same-day cash posting for 90% of payments.
With transparent dashboards and root-cause analysis, your organization can monitor performance and identify opportunities for improvement. Our software allows you to stay one step ahead by proactively identifying missing remits and then track proof of timely filling.
End-to-end solutions for the rev cycle
The value of having a single, advanced RCM partner is clear. Bringing all claims and payers onto one, integrated platform results in performance, operational and strategic benefits.
With analytics and reporting at your fingertips, you can know exactly what's happening behind the scenes of your revenue cycle and streamline collections. Our advanced, automated technology arms your team with efficiency, reducing manual and time-consuming workflows that can cause errors and slow down the revenue cycle.
With our intuitive, all-in-one platform, it's easy to bring new staff members up to speed and increase your ability to scale. Our trusted security and IT management features give you and your patients peace of mind that sensitive information will be protected.
From optimizing patient payments to unifying claim management to detailed analytics, Waystar can help your organization reach peak performance.
Find this post helpful? Learn how to reduce effort while increasing productivity in your revenue cycle.