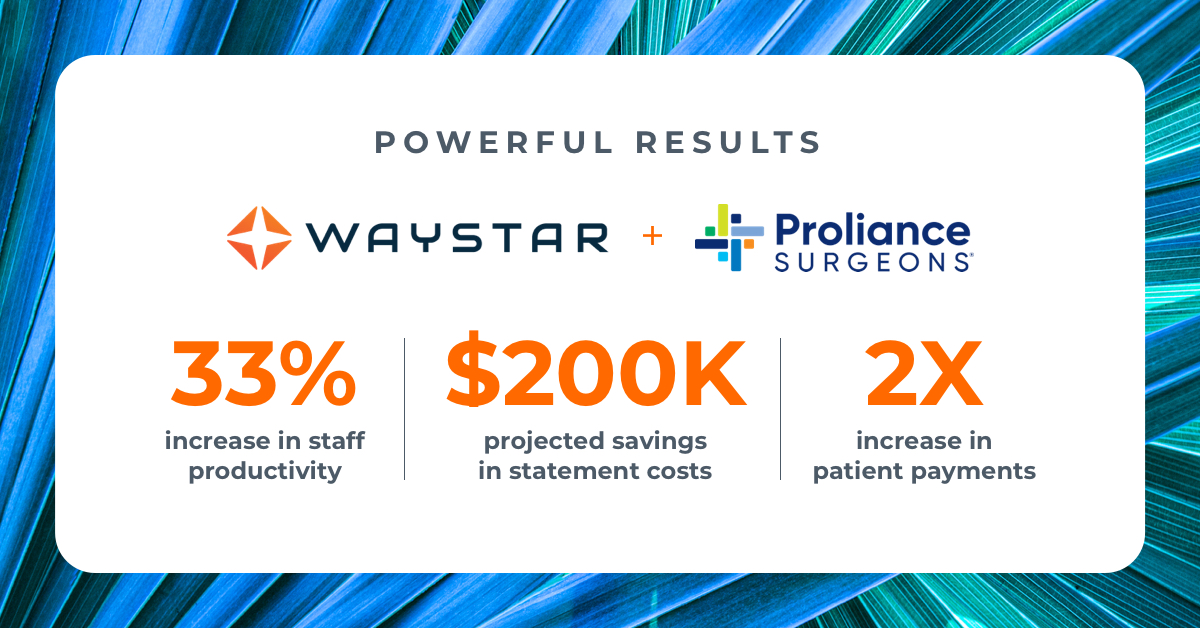 As health organizations expand and scale their business, having cutting-edge solutions is critical to streamline their revenue cycle. That's exactly what happened with Proliance Surgeons. Their increase in operations outpaced what their prior outdated technology could handle and lacked the proper functionality to achieve revenue cycle optimization.
"Believe it or not, for as large as we are, we were very ancient in our technology. Our team was submitting claims through seven different methods, and we didn't have a clearinghouse," says Jessica Weathers, Senior Director of Revenue Cycle at Proliance Surgeons.
Proliance Surgeons used several disparate workflows that only muddied their revenue cycle processes, making their jobs more difficult. To reach true revenue cycle optimization, Proliance Surgeons sought an RCM partner who could match their pace — and provide a step-by-step action plan for success.
Since implementing these revenue cycle optimization strategies, Proliance Surgeons has seen powerful impacts across their organization, including a 33% increase in staff productivity and doubling their patient collections. Here are key takeaways from their success.
NOTE: Unless otherwise cited, data in this post is from the 2023 Proliance Surgeons case study. 
Hear Proliance Surgeons' story
revenue cycle optimization TIP: 
1. Improve productivity without increasing headcount.
Nearly 75% of medical practices ranked staffing as their biggest pandemic challenge heading into 2022. Whether your health organization has seen recent turnover or has simply outgrown your current headcount, finding ways to do more with less is critical for revenue cycle optimization.
Leveraging Waystar's technology, Proliance Surgeons eliminated high-touch, time-consuming billing processes to free up their staff's time. Tasks that were once highly manual have been lessened — or even eliminated — from their workflows, allowing their team to save significant time and energy. In fact, they were able to reallocate several FTEs to more value-based activities.
revenue cycle optimization TIP: 
2. Minimize manual work + leverage purpose-built automation.
Prior to partnering with Waystar, their team spent time and effort managing denials and submitting appeals manually on paper. Now, payer forms are auto-populated, claims are attached, and notes can easily be uploaded. The new process has led to a decrease in denials and improved productivity by 33%.
"Waystar's denials and appeals solution provided an enormous amount of automation and prioritization that we've never had before. It has changed our entire workflow allowing us to produce bigger results by knowing which denials to work and when," says Weathers.
Proliance Surgeons' team has also have more visibility into claims than ever before.
"Before, we really had no insights into our claims at all. By the time we were catching up to what was going on, it had already been 30, 60, or even 90 days before a biller was touching it,"
shares Weathers. "Now, we have very short turnaround times. We know immediately what's going on with our claims, and we can be more proactive."

revenue cycle optimization TIP: 
3. Bring clarity + convenience to the patient financial experience.
Empowering your team with the proper technology is a gamechanger — and the same can be applied to the patient payment journey, too.
Proliance Surgeons offers modern, digital payment tools that allow patients to better understand and pay their medical bills in affordable ways. Their strong patient payments strategy has helped increase payments and patient satisfaction.
"Waystar's online portal has been huge for us. We have seen about a 40 to 50% increase in our online patient payments from our previous platform. Offering patients a digital solution allows them to go in and manage their payment plans — they have access to everything," shares Weathers.
Powerful results of delivering better patient financial care
With the proper technology to support their business' growth, Proliance Surgeons has experienced tremendous success when it comes to their revenue cycle.
Now, staff can focus on higher-value initiatives instead of being bogged down in manual tasks. Similarly, Proliance Surgeons now provides their patients with updated payment technology to make it easier for them to understand what they owe and why.
All these efforts to streamline their workflows and financial processes have led to great results, including a huge jump in efficiency and twice the dollar amount of patient payments. In addition, Proliance Surgeons has now found an RCM partner that can support their system goals and set them up for future financial success.
Together, Waystar has helped Proliance Surgeons take their revenue cycle to new heights.

Want to learn how to achieve revenue cycle optimization?
See how Waystar can help solve your toughest administrative and financial challenges.