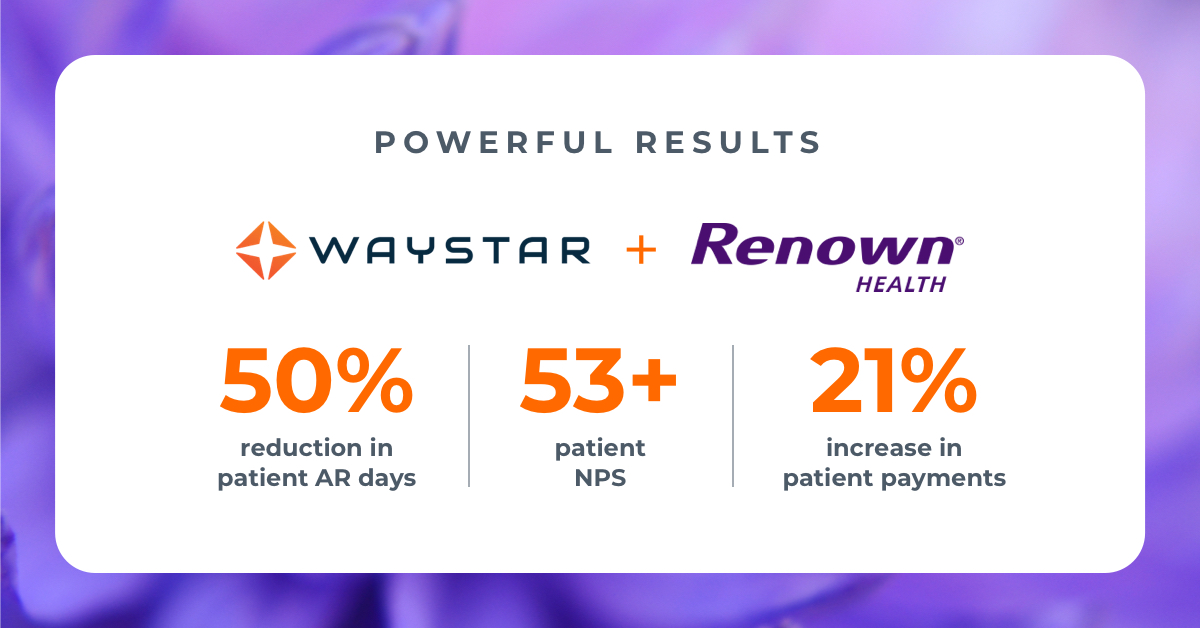 When it comes to earning patient loyalty, many focus on the clinical side of healthcare and may not realize just how much the patient financial journey impacts the experience. The truth is how well you deliver patient financial care can leave a lasting impact — and even play a role in determining if patients decide to return in the future.
In fact, 63% of healthcare consumers would consider switching providers if they were not satisfied with their experience — including their finanical experience. That's why Renown Health knew it was time to transform the patient financial journey to empower staff and give patients the confidence to pay their medical bills.
"As people who use our own services, we knew first-hand that our patient experience was not what it could be. We wanted our solution to be fully connected so the patient doesn't have to go from one website to another," says Kara Martinezmoles, VP of Revenue Cycle at Renown Health.
Since implementing these targeted patient financial care strategies, Renown Health has seen great results, including a 21% increase in patient payments and a 50% reduction in AR days. Here's what we can learn from their success.
NOTE: Unless otherwise cited, data in this post is from the 2023 Renown Health case study. 
PATIENT FINANCIAL CARE TIP: 
1. Give staff the proper technology to offer the best patient financial care possible.
Is your team bogged down by manual touchpoints or disparate workflows? Ensuring your team has the proper tools to get things done doesn't just impact your revenue cycle and staff satisfaction — the effects can trickle down to the patient financial journey, too.
Renown Health recognized antiquated technology was holding them back from reaching peak performance. Under their legacy vendor, they had to rely on point solutions, manual reconciliation, and far too many credit card companies in the collections process. Their outdated capabilities made it difficult for staff to keep up.
With enterprise-wide payment processing and Epic integration through Waystar's healthcare payments platform, Renown Health was able to streamline workflows, consolidate billing, and manage payment reconciliation in real-time.
PATIENT FINANCIAL CARE TIP: 
2. Provide more ways to pay to support the patient financial journey.
When it comes to delivering better patient financial care, more matters. Giving your patients a variety of ways to pay — such as text, email, phone calls, and print — makes it more convenient and easier for them to meet their financial obligations.
Renown Health started utilizing plug-and-play payment integrations, including Billpay, Cash Drawer, IVR, Lockbox, MyChart, PatientWallet®, guest pay, and text-to-pay. Adding payment options has brought in fuller, faster payments, while providing better support across the patient financial journey.
Since implementing the change, Renown Health has cut AR days and created a better patient financial experience that has a positive ripple effect across their health organization.

PATIENT FINANCIAL CARE TIP: 
3. Gauge satisfaction with the patient financial journey — and make adjustments.
Are you currently quantifying patient satisfaction? Or, are you unsure of how to translate the patient experience into tangible numbers?
Collecting patient satisfaction scores is key to knowing where your health organization stands. For example, net promoter score (NPS) measures loyalty and can also predict business growth, giving you an idea of what's working well and pinpointing potential areas for improvement.
Thanks to seamless Epic integration, MyChart adoption has become a primary, positive source of patient engagement for Renown Health. A full 100% of patients now go through MyChart, which has resulted in a 53+ NPS.
"Net promoter score (NPS) was brand new to us and we quickly saw its benefits in our patient financial journey," shares Martinezmoles. "Patients can now raise an issue, and my department has the ability to resolve it. So we can now actively help people through the patient financial journey."
Powerful results of delivering better patient financial care
Renown Health has seen patient satisfaction and payments soar after putting this plan of action in place.
Now, staff can engage patients using their preferred communication method, whether it's through text, printed statements, phone calls, or emails which have an open rate that's 13.3% higher than the industry's average.
That high level of engagement has helped increase patient payments by 21%, lower days to pay, and cut the cost to collect. That means Renown Health has more time and resources to focus on what matters most — caring for their patients and community.

Want to know more about the patient financial journey?