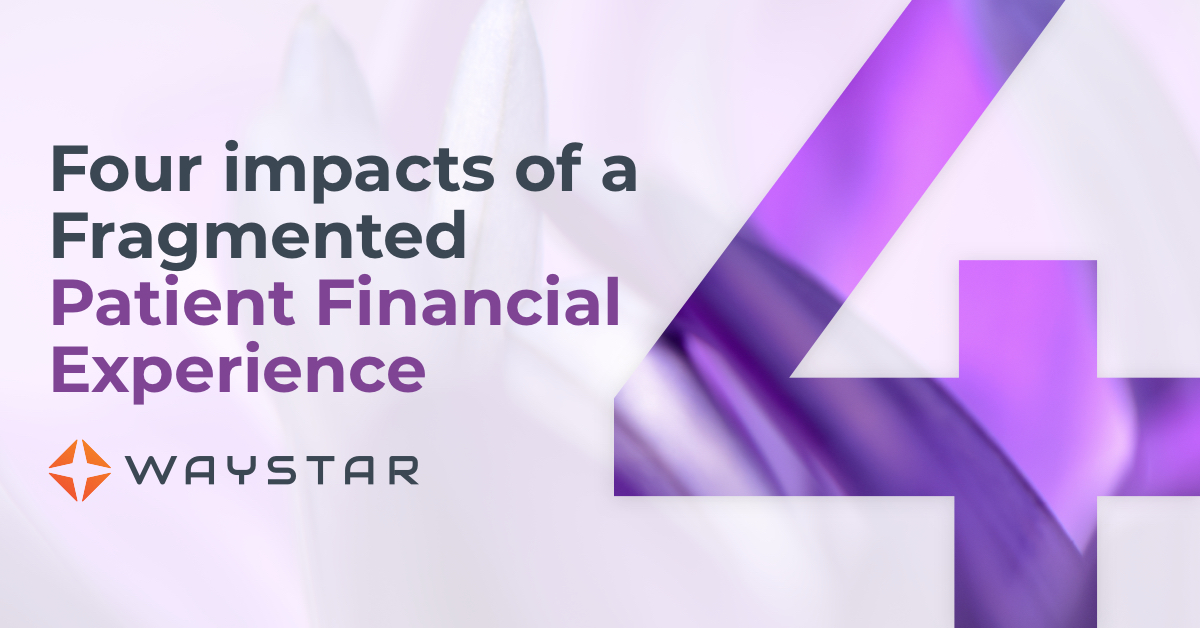 How to solve + stay ahead
Providing a smooth patient financial experience is about more than streamlining the payment process. A negative payment experience can have a ripple effect on your entire organization.
Whether it's delaying payments with outdated technology or unknowingly putting sensitive patient information at risk, a fragmented patient financial experience means that something in your revenue cycle is broken. Inefficiencies in the rev cycle not only slow down your workflow—they can have a big impact on your ability to retain patients, maintain efficiency and scale in the future.
A simplified, modern patient financial journey is key to keeping loyal patients and staying competitive with other providers in your market. Investing in the patient financial experience can help drive preference for your medical services, while keeping your team efficient, consolidating services and protecting your reputation.
While a fractured patient financial journey may have a major effect on your health system, there are clear ways to make improvements and keep your revenue cycle in peak performance.
Together, let's analyze all the ways a disjointed patient financial experience can impact your health organization—and how you can stay ahead of the curve.
Unhappy patients can lead to low retention rates
As a health organization, ensuring a positive consumer experience doesn't just stop when providers are face-to-face treating patients. It happens behind the scenes with the financial and administrative sides, too.
Complicated, ineffective billing—or even erroneous charges—can cause dissatisfaction with consumers. If providers aren't having upfront, honest conversations about service expenses, your patients may feel blindsided by their medical bill.
When it comes time to pay the bill, a complex payment system can also create frustration and even delay crucial payments to your organization.
That's why it's important to offer a streamlined patient financial experience with the latest, data-driven solutions. Offering multiple ways to pay as well as payment plans that fit into your patients' budgets can pay off in the long run.
In a recent case study, Inspira Health improved the patient financial experience by providing better self-service payment plan options, leading to 34% higher monthly patient payments and 56% shorter plan terms for self-service payment plans, using Waystar as their RCM partner.
With our all-in-one platform, it's easy to:
Provide personalized, easy-to-understand digital statements with engagement and behavior tracking
Consolidate billing across the treatment process with one payment plan
Offer multiple payment options to suit every patient, such as mobile-friendly bill pay portal, mailed checks, phone IVR, text-to-pay and Apple Pay
Altogether, these technology solutions make it easier for consumers to understand their medical charges—and make it easier when it's time to pay.
Resource constraints + staff inefficiencies
Manual and multiple workflow systems can cause frustration with consumers as well as team members. Training time for outdated and inefficient technology can eat into valuable revenue budgets and slow down the intake and payment process for patients as well, causing a poor consumer experience.
With current staffing shortages and other resource constraints, minimizing burnout for your team should be a top priority. For your team members, everyday procedures—such as posting, reconciliation, chargebacks and reporting—become a major obstacle without the right technology.
We understand processing issues can disrupt your health organization. That's why Waystar provides an intuitive, staff-facing view of our platform which has shown proven success in action. As a leader in RCM, we have received the highest distinction in the 2022 Best in KLAS report for both Claims & Clearinghouse and Patient Financial Engagement categories.
According to a recent case study, Great River Health System achieved a 60% decrease in monthly patient call volume with Waystar as their RCM partner. In addition, the health system also had a 30% increase in online, self-service payments, alleviating extra strain on their staff.
Our platform works for you, offering simple and automated services to empower your team members like:
Integrated payment options to streamline financial conversations
Staff visibility and training on how to understand and answer patient balance questions
Scalable customer service channels, such as inbound calls and live chat
Incentives for efficient work with a leaderboard embedded into the workflow
Options for manual processes, such as automatic posting and reconciliation
With efficient, easy-to-use technology to improve your workflow, you can help retain team members and simplify the patient financial experience.
Inability to consolidate can hold you back
A disjointed patient financial experience can hinder your growth and ability to scale for the future. If you are opening new facilities or planning for future expansion, complex billing systems can be difficult to manage across your system.
Multiple locations with different billing and payment systems, such as merchant processors, gateways, vendor statements and online bill pay, can create confusion. Consolidating the revenue cycle with smart technology has shown a significant impact on how efficiently many health organizations operate.
SCP Health improved the patient financial experience which led to a 300% increase in payment portal adoption, in a recent case study. With a comprehensive platform and vertically integrated payment technology, health systems can rely on one partner—Waystar—to provide a superior patient financial journey from beginning to end.
Whether you are currently growing the size of your organization or planning to expand in the future, we offer:
A single integrated platform for your entire patient financial experience
Quick and easy merchant onboarding as a payment facilitator
A consolidated billing experience across your entire organization
Real-time, to-the-penny match of payment data
One, intuitive space for RCM helps streamline your current revenue cycle so you can be ready for growth.
Increased risk for fraud + compliance problems
From using obsolete software to keying in information manually, many outdated practices could cause a risk to your reputation, security or even compliance status. If you rely on multiple vendors for RCM technology, it can be difficult to identify problems and pinpoint potential security risks.
Waystar takes our responsibility in RCM seriously, and we have advanced technology to help prevent, identify and stop threats to security and keep you in compliance. This includes:
Being a PayFac, which means taking care of underwriting, AML and KYC compliance as well as risk and fraud monitoring with the highest standards
Ensuring compliance with PCI DSS level 1, SOC 2, HIPAA, HITRUST and VP2PE
Offering one, comprehensive platform to reduce security risks with other vendors
Being the sole point of contact for patient payment security and fraud management
Don't let a disjointed patient financial have a permanent impact on your health organization's progress moving forward. No matter your challenges with the patient financial journey, Waystar has a smart solution ready to improve your revenue cycle.
Find this post helpful? Learn why patients aren't using your patient portal.