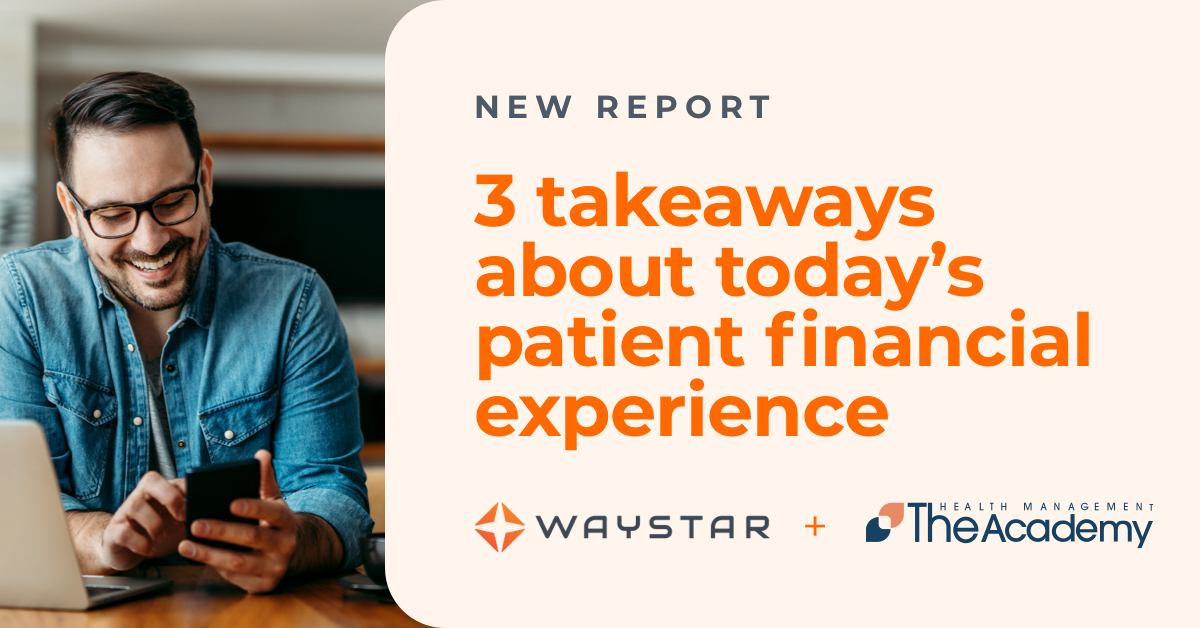 Today, the patient financial journey has the power to define a patient's entire healthcare experience. It sounds hyperbolic, but the data bears it out.  
"When you think about the patient experience as a whole, the first and last touchpoints are financial interactions," says Nadia Critchley, Senior Analyst, Research & Advisory at The Academy. "And that's often a make-or-break point for the patients."   
In fact, 60% of patients who pay out-of-pocket costs and receive either an inaccurate estimate or an unexpected bill will consider switching providers for a better payment experience. That's six of 10 patients who are willing to walk solely based on a poor — or even just frustrating — patient financial journey.   
"It's a really large number," says Critchley, "and a trend that we're seeing increasingly as patient financial obligations continue to increase."  
So how do top rev cycle leaders handle this? They start by understanding what the patient financial journey looks like today.
Here are 3 critical facts to know, taken from The Academy's latest report – Investment in patient financial experience key to revenue improvement.

PATIENT FINANCIAL JOURNEY FACT: 
1. Other priorities are beating out improvements to the patient financial journey
According to the report, 40% of CXOs say other priorities are superseding improvements to their patient financial journey. In 2023, the top three things pulling focus are:  
Cost management

 

Care team wellbeing

 

Reducing their administrative burden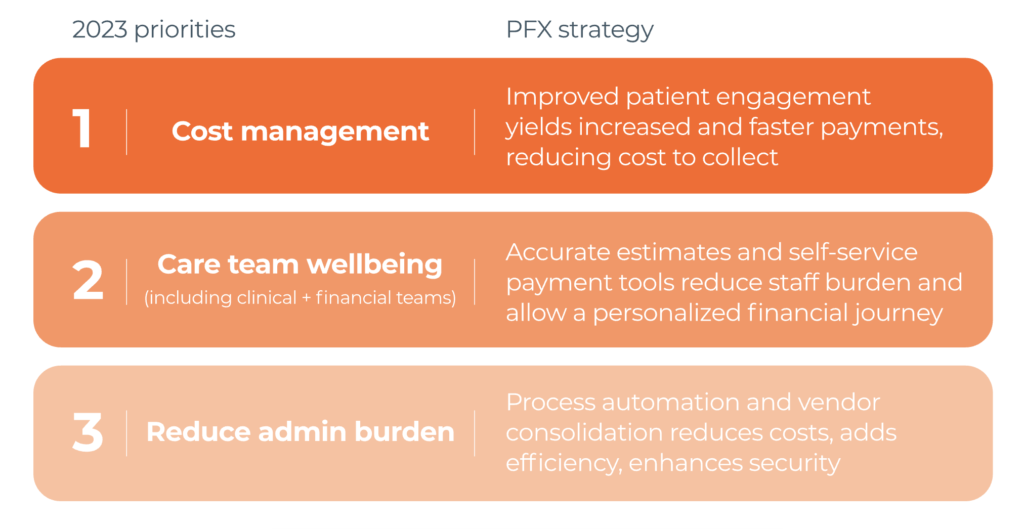 This is despite the fact that care team wellbeing and administrative burdens tie directly to the patient financial journey.  
"When we talk about the healthcare workforce, we tend to think of nurses or clinical staff,'" says Critchley, "but there are a lot of other folks — especially the financial staff — who are seriously overburdened with those administrative tasks, particularly in the patient access space. That results in a lot of them feeling burned out and leaving."  
So, what do organizations do to address this? They focus on the front end of the patient financial journey — and often only the front end. Which leads to our next fact:  

PATIENT FINANCIAL JOURNEY FACT: 
2. Leaders are investing in pre-service automation — even though results are slow
The biggest swing in automation investments is happening in pre-service — even though pre-service tasks are often difficult to improve in a vacuum.  
"The front-end is hard, not easy. The staff are there because they want to help patients, but most of the tasks are difficult and mainly administrative. It's tough to learn, and, if they get it wrong, it's so expensive."  – Chief Revenue Officer, Leading Health System 
Historically, systems have looked for low-hanging fruit to automate. They start with tasks that are highly repetitive, prone to human error, and easy to put on autopilot — think revenue capture and integrity (16%) or eligibility verification (13%). However, the biggest change in investments this year are no longer the easy wins. Systems are spending more on things that are more nuanced — like patient estimates (19%) and patient registration QA (17%) — even if they're slow to see results.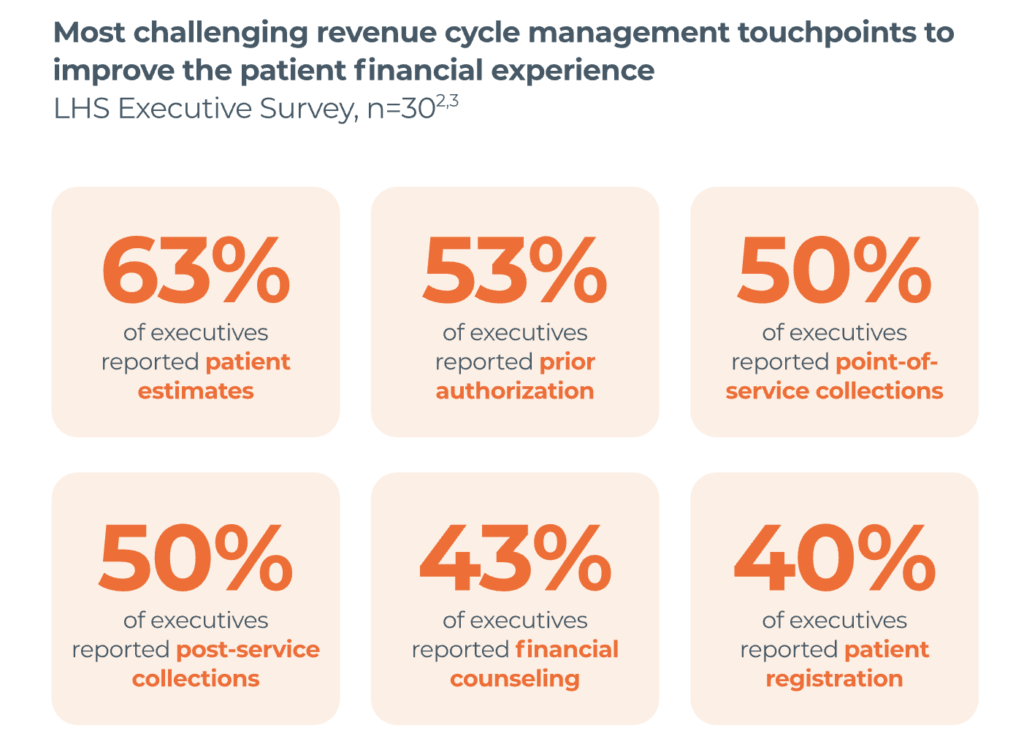 "Most executives that I spoke to [agree] that producing inaccurate estimates is more harmful to patient trust and leakage than providing no estimate at all," says Critchley. "But of the half (53%) that are using patient estimates … almost all feel that there's a disconnect between [their] services and the actual results they're seeing."   
This tells us two things about trends in today's patient financial journey:
Health systems want to improve

and standardize the patient financial experience using front-end tech, and

 

Providers that can find and invest in tools that actually

do

improve it can

use that positive patient financial journey as a differentiator

. 
"Price transparency is becoming a consumer strategy," says Critchley. "We market health outcomes, but if your organization can give patients a great financial experience, that will differentiate you, too."  
How do you deliver a superior patient financial journey? Start with a comprehensive approach.   

PATIENT FINANCIAL JOURNEY FACT: 
3. A holistic patient financial journey must be supported by cross-continuum solutions.
"We all want a truly holistic patient experience," says Critchley, "but a lot of people are falling into this common pitfall of plug-and-play solutions."  
In practice, a superior experience has a list of what to do when. Yet none of the health systems The Academy spoke to that had all of these in place. Why? Because it's hard to do.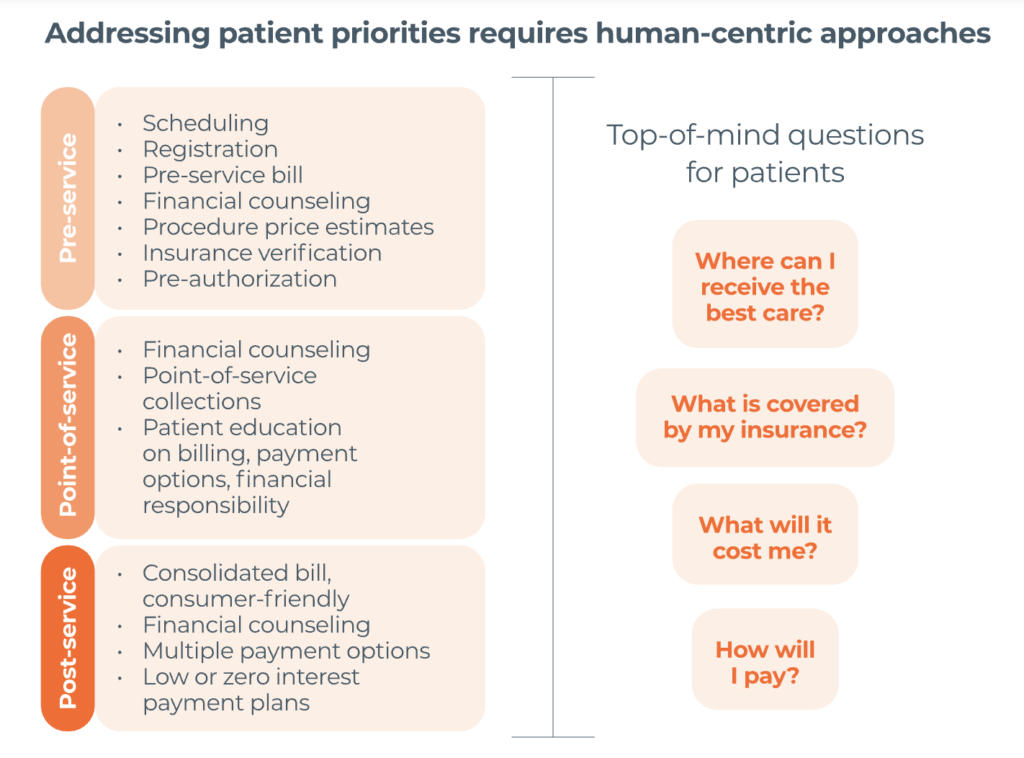 Still, it's a goal worth striving for, Critchley says, because every patient is impacted by the rev cycle across their entire journey — including the invisible interactions like prior authorization.   
"Before [I got into this type of research], I had no idea what was going on in the backend. As a patient, I didn't know about all those segments that have to happen to get to one bill," says Critchley. "All I knew was I got a bill that was way higher than I expected.
"Now I understand that a seamless movement of patients through the health system — starting with pre-registration, before they even engage with a clinician, through post-billing — is all reflected and rolled up into one patient satisfaction metric."   
What can health systems do to advance a cohesive patient financial journey?
Critchley suggests two opportunities when it comes to vendors: 
Partner with an end-to-end vendor.




"This is not super common right now," says Critchley, "however, I personally expect to see a growth in this number, and for more systems to move to end-to-end solutions soon." 

 

Partner with a vendor that:

 

Centralizes data, and

 

Interfaces well

with other vendors and EMRs. 

 
"Historically, [many vendors] have separated revenue cycle management from the patient financial journey, but the reality is they're intertwined," says Critchley. "Today, it's non-negotiable that vendor partners unify and excel in both backend processing and patient experience."   
Want to know more about the patient financial journey? 
See how Waystar can help your patient financial experience. 
Watch the webinar