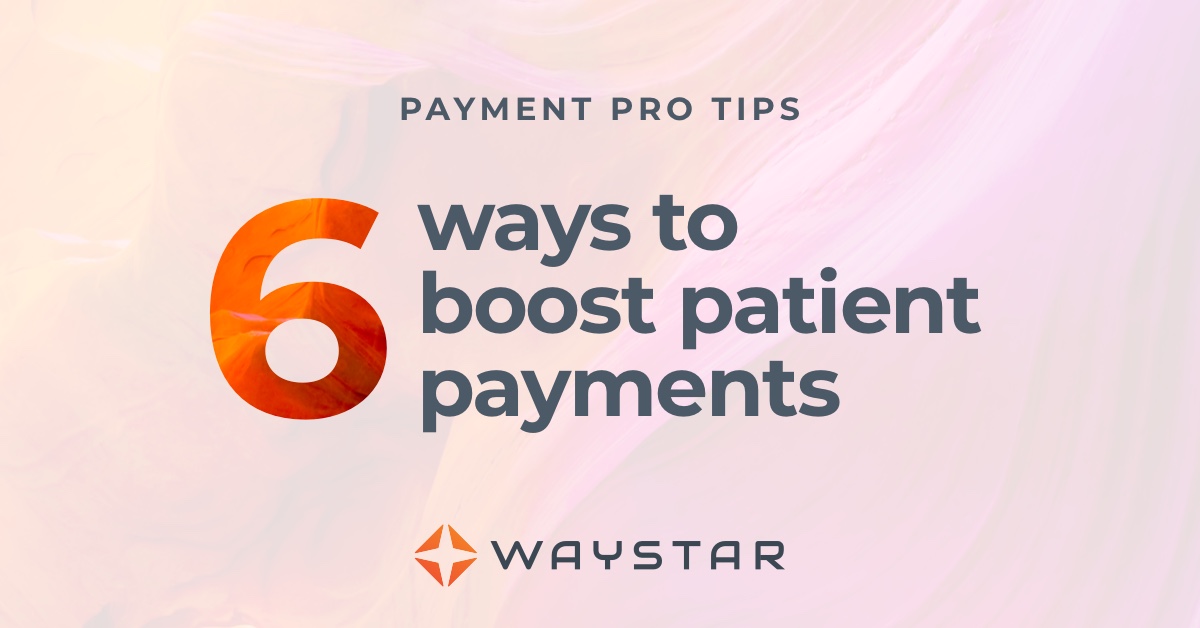 The patient payment process is complex — to the point where some people are more anxious about paying for a procedure than actually having it done.  
"Many patients are more stressed about the billing process than the quality of the care they receive," says Eric Sulivant, solutions strategist at Waystar. "Looking at that image, it's easy to understand why. We're all patients at different points in our lives. But as providers, technology offers many opportunities to make patient payments simpler, which leads to a better care experience overall."  
Make your patient payments process more human with technology designed with simplicity in mind.
6 tips for boosting patient payments
PATIENT PAYMENT PRO-TIP
1. Focus on pre- and point-of-service payments
Everyone in healthcare RCM knows payments happen at three checkpoints: 
Pre-service

 

Point-of-service (POS)

 

Post-service
And, while most collections still happen after service, it's critical for providers to shore up both pre-service and POS collections now. Why? Because if patient payments are not captured up front, they probably won't be captured at all.  
Once a patient leaves an office, the provider's chance of collecting payment drops significantly, and that has serious ramifications.  
When patients were paying a $20 copay on a $4,000 bill, that shortfall might not have posed a huge revenue hit.

 

Today, however, when a patient might be responsible for 20% of that bill, a missing $800 is much harder to absorb. 

 
The bottom line: It's never been more crucial for providers to capture as much revenue as possible at or before the point of service. 
More from Waystar: 4 tips to boost point-of-service collections 
PATIENT PAYMENT PRO-TIP
2. Pair preferences + engagement
If a patient says they prefer to get bills via text, you should text them their bills … right? Right — but you shouldn't stop there.  
Savvy providers deliver bills by whatever method a patient says they want to receive them, but they also auto-adjust their delivery method based on how that patient actually pays.  
For example, if a patient requests bills by text, you should text them their bill. However, if you see that they never pay their bills by text, but instead tend to pay quickly by email, you should change your strategy to account for that fact.  
The bottom line: Make sure you're using a patient payment technology that leverages data to auto-adjust your communication appropriately. 
PATIENT PAYMENT PRO-TIP
3. Customize your message to each patient
Next, it's important to get granular with customization. If your version of personalization is just inserting a name into a template that says, "Time to pay your bill, [Name]," you probably won't see much engagement. You will, however, if you adjust your message to a patient's situation and propensity to pay.  
Let's say you get a bill for $500, and you can't afford to pay that all at once. If the text you get says, "Log in now to pay your bill," you're probably going to ignore that text. Now, imagine instead that the message says, "Log in now to view your payment options." That feels a little less daunting, right?  
The bottom line: Personalization isn't just about getting the right information to the right patient; it's also about presenting that information in a way that gives the patient choices and control.  
PATIENT PAYMENT PRO-TIP
4. Support self-service
If there's one thing that makes patients more likely to pay healthcare bills, it's the option to self-serve.  
Studies consistently show that a patient is more likely to pay in full or complete a payment plan if they can pay how and when they want — whether that's via online portal, from a QR code, in response to a text, etc.   
The bottom line: Providers who use a patient-centric payment system like Waystar can see a 61% average self-service pay rate and a 30% increase in patient collections.
PATIENT PAYMENT PRO-TIP
5. Offer options for every budget
You don't have to magically make a patient's bill cheaper for them to pay; You just have to make that payment feel possible.  
Whether you want to offer external financing or keep payment plans in-house, putting those options — alongside charity care — in self-service channels is the first step to making patient payments more affordable.   
What's more, it works: Waystar data suggests that there is a significant increase in payments when patients are on a payment plan.  
Plus, with the right technology partner, you can still apply safeguards that make sense for your business. For example, you can give your patients flexibility without allowing them to set up a $1/month payment plan that extends for years on end.  
The bottom line: Self-service works best when you offer options that are realistic — for the patient and the provider. 
PATIENT PAYMENT PRO-TIP
6. Match your tools to your team
When you're looking for an RCM tool, you obviously want one that fosters efficiency so patients have a better experience. But your tools also need to work for providers and staff in order to get long-term buy-in.   
Many payment solutions focus so much on the patient experience that the staff experience suffers. When that happens, everyone loses. Look for a system that shows the patient and provider the same information. That way, there's no question about the timing of integrations, or the staff and patient seeing different information.   
The bottom line: The simpler the interface is to use, the clearer the communication between patients and staff will be.  
Want to know more about Waystar Patient Payments?
Find out how smarter tech can help you realize more revenue.  
Find this post helpful?