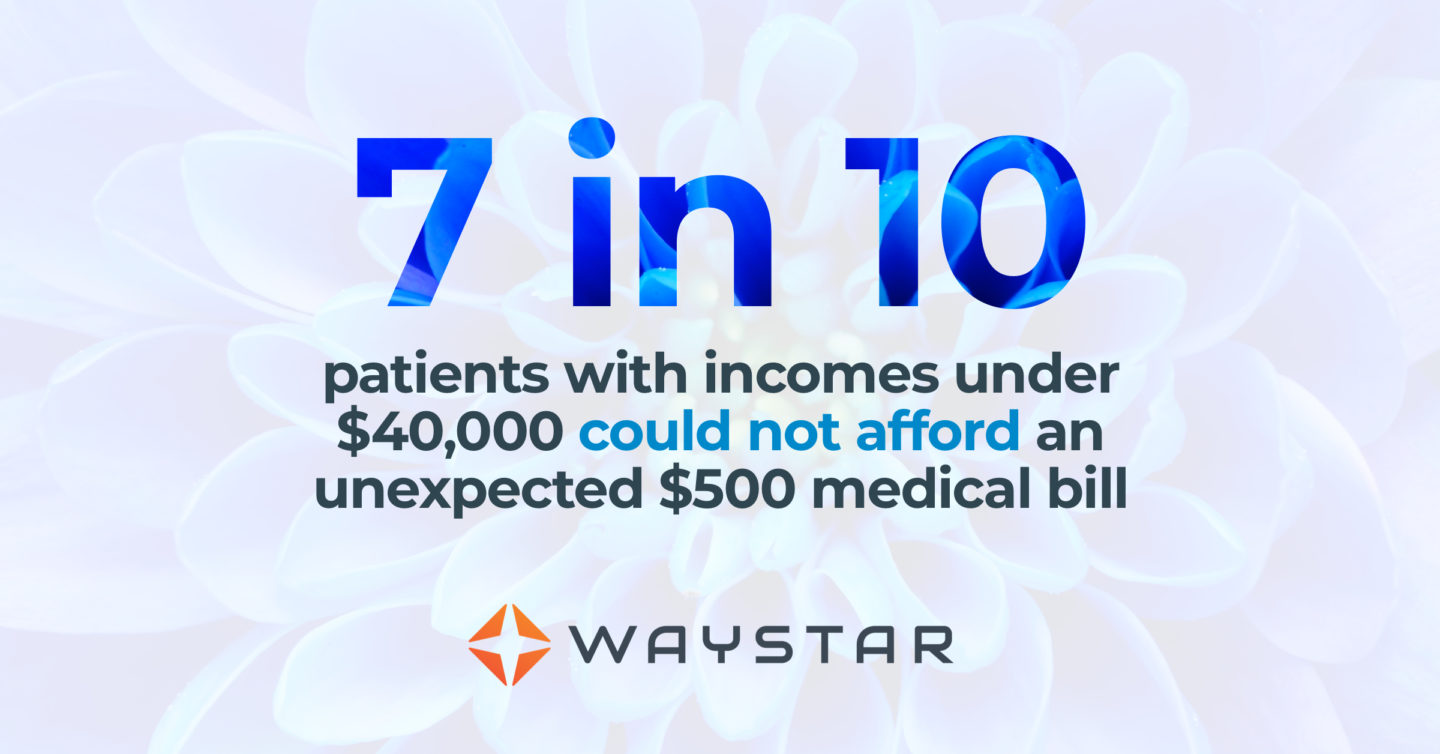 The way patients experience healthcare has evolved.
Patient payment responsibilities are increasing while the way health benefits are administered is growing more complex. And as patients adopt more consumer habits, they have become more educated and discriminating about both their quality of care and the experience for which they're paying a significant out-of-pocket price.
There are three major trends we can point to as the key factors behind the evolution of the patient financial experience:
1. Increasing patient responsibility
The way patients pay for their healthcare has changed drastically in the past 10 years, but today's insurance premiums remain a heavy burden. By 2019, studies found the average annual single deductible had doubled from what it was a decade prior. And according to recent analysis, the average family can expect coverage that tops more than $22,000.
Unfortunately, increasing patient financial responsibility has long since outpaced annual earnings growth. The growth in high-deductible health plans (HDHP) has also pushed patients to pursue their healthcare needs as true consumers. Recent data revealed that more than half the covered U.S. population was enrolled in a HDHP by 2020.
In turn, providers have found themselves facing new uncertainty and strains on their revenue cycles. A 2020 survey of hospital executives found more than 40% of respondents had seen increases in bad debt and uncompensated care (48%). The view from the patients' side is just as concerning—per another recent KFF study, seven out of ten patients with household incomes under $40,000 stated they would not immediately be able to afford an unexpected $500 medical bill.
2. Unprecedented economic conditions
COVID-19 has significantly exacerbated the situation for patients across the country. The first year of the pandemic left many without jobs, their preferred insurance coverage and even access to healthcare. And that patient uncertainty continues to fluctuate and affect the decision for many whether to pursue care.
The economy seems to have entered its own new phase of uncertainty, however, the so-called 'great resignation.' By the end of July 2021, the Bureau of Labor reported there were 10.9 million open jobs. It's a trend still producing record highs, with reports indicating 4.5 million workers had walked off the job in November alone. These staggering numbers indicate not just upheaval in the jobs market, but the ability for many patients to secure the coverage they need to pursue their healthcare needs.
3. Patients have become consumers
Today's patients are more like consumers than ever. Between expectations built up from experiences in other industries to the rapidly expanding availability of pricing and knowledge concerning healthcare procedures, patients are equipped with huge amounts of information they must now pair with significant fiscal considerations when it comes to making choices about their care.
Beyond patients expecting more transparency, new regulation has been put in place to compel certain providers to provide out-of-pocket costs to patients. The recent No Surprises Act is one example, addressing patient concerns around cost when out-of-network providers are in place.
The three P's of patient consumerism
These three factors have created an environment that's complex for providers of any size to navigate, but there are simple, yet significant strategies you can employ to streamline operations and ease the strain on your team. With the right tech and tools, you can elevate the patient financial experience, streamline operations and improve revenue flow.
Through the three P's of patient consumerism, you can easily achieve those goals.
Precision: Accurately identify coverage and patient responsibility.
Understanding patient coverage prior to the visit or service is a vital tool for improving not just the patient experience, but for supporting your team. With a proper solution, your organization can fully automate the most demanding steps involved in identifying insurance coverage and providing patients with an accurate estimate of their responsibility. Additionally, a solution utilizing technology like artificial intelligence and predictive analytics can effortlessly and automatically identify coverage, even if it's unknown to the patient.
That kind of automation delivers invaluable insight on where providers should focus their resources. If a patient is likely to pay on their own, they can be moved to the top of the priority list. Meanwhile, patients who will be more challenged by their financial responsibility can be assisted with tailored payment plans and communications.
Personalization: Provide patient-centric statements and payment methods.
Catering to a patient's expectations and needs is now more important than ever. Provide patients with a personalized, simplified, convenient and consolidated experience that meets them where they are and you'll create an environment conducive to timelier payments and ultimately more revenue. Using patient-centric statements and payment methods ensures they're able to understand and manage what they owe with options that fit their budget based on their preferences and likelihood to pay.
Promptness: Collect or set up payment plans at scheduling or time of service.
Provide estimates of the total cost for each patient for each visit. When a patient knows exactly how much a procedure is likely to cost, they are far more likely to schedule treatment. It should be a best practice to train staff how to discuss the cost and require payment (or a portion of payment) at the time of service. Staff should be able to help educate patient consumers and clearly explain deductibles, out-of-pocket costs and other insurance terminology that can be confusing for patients.
Other tactics include using kiosks or online check-in software that can prompt patients to resolve co-pays and outstanding balances before the appointment. Offer flexible payment plans that are customizable to patients, not the 'one size fits all' approach that's been the standard for so many years in the industry. It's a smart, convenient way to allow patients to pay off high balances monthly instead of requiring it all at once.
Wrapping it up: helping patients achieve better physical + financial health
The three P's of patient consumerism offer a simple, streamlined approach for providers to solve some of the most challenging obstacles in healthcare today. If you're looking for a comprehensive and strategic approach to help implement all three P's, Waystar's Financial Clearance solution can help empower your staff with the cutting-edge payment collection tools you need to simplify and unify your revenue cycle.
Want to see just how much Waystar can help you achieve? Click here go learn more.
Find this post helpful? Check out how front-end automation supports a more efficient + precise revenue cycle.