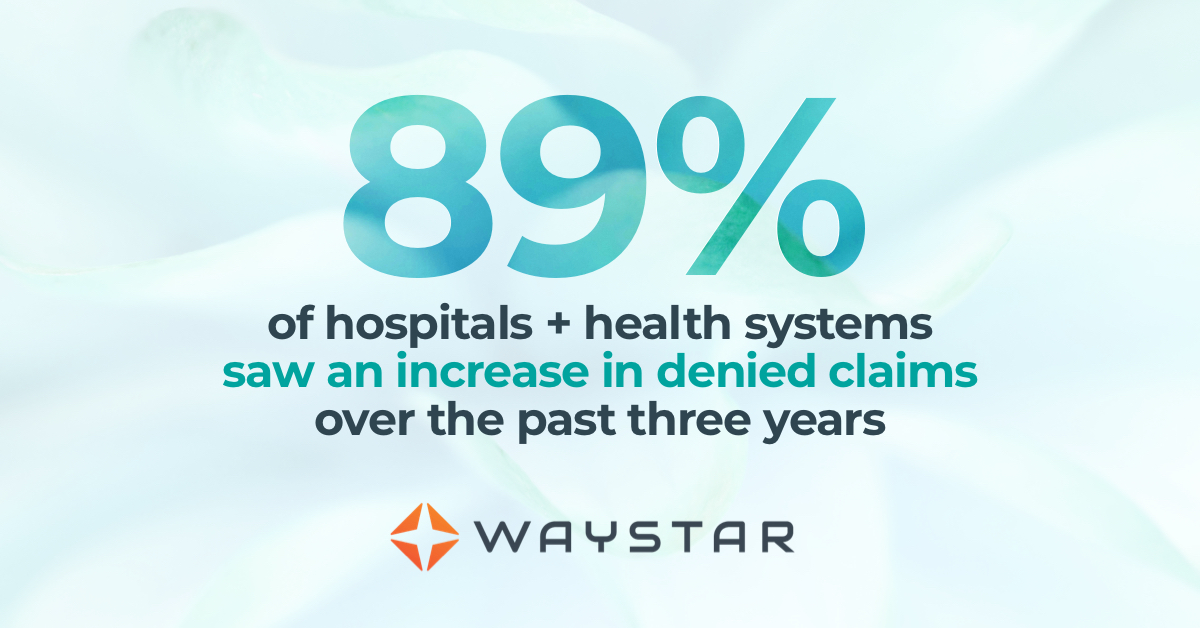 Your introduction to the basics of the healthcare revenue cycle. This week: denial and appeal management\.
What is denial and appeal management?
Denial and appeal management is an umbrella term for the processes and strategy that make up a healthcare provider's attempts to mitigate potential denials and the follow-up once a submitted claim has been rejected by the payer. What makes it a crucial aspect of revenue cycle management is the fact that denials have always put a heavy strain on providers' time and resources.
Recent trends illustrate the persistent pain points denials represent. Estimates put the cost to rework a claim at $25 per denial, and just this year a study found that adds up to a cost of $5M in denials, on average, per provider.  Another recent report found 89% of hospitals and health systems saw an increase in denied claims over the past three years, with the average rate increasing 23% in 2020 compared to four years ago.
Providers use denial management and prevention to assess what causes denials, tracking the factors and trends across workflows or carriers to pinpoint critical areas of concern and lay the groundwork for process improvements. Appeal management pertains to the follow-up once a rejection has been received and identified as a candidate for re-submission, per the appeals process laid out by a provider's contract.
How denial and appeal management works           
How the denial and appeal process looks is as much dictated by the reason for the denial as it does a provider's given resources. Reasons can be complex, with a wide range that includes:
A patient lacks coverage for a given procedure or treatment
A patient may not be properly be enrolled
Insufficent documentation explaning the need for a medical procedure
Demographic data errors
A lack of pre-certification
Once a provider has a denial and explanation for it, they can proceed to appeal it if there is a reasonable expectation it will be overturned. At this point, staff will proceed according to the insurance company's given appeals process. Steps in this process vary, and could include:
Calling to clarify confusion around denial codes
Obtaining and recording reference numbers when contacting insurance
Collecting relevant or corrected documentation and patient info
Obtaining and completing all required forms
Sending an appeals letter to address an invalid code, incorrect name or modifier
Resending any appeals that failed to include all required documentation or info
Once an appeal has been submitted, billing staff will continue to monitor for updates, often by calling directly. Many providers still manually manage most of the steps in this process, often eating up hours of time and resources. And that's even before most providers begin to think about implementing workflow and process improvements, which are often put on hold due to very interupptions they were designed to solve.
How denial and appeal management affect the healthcare industry
Denial and appeal management are consistently a key concern for providers of every size and specialty across the healthcare industry. But like many administrative tasks further burdened by the impacts of the COVID-19 pandemic, denial and appeal management workflows dependent on manual processes are experiencing new strains on accuracy and productivity.
Last year a survey investigated how billing and administrative tasks were impacted by COVID-19, with 37% of surveyed providers reporting an increase in workloads due to issues with coding and requirements. An assessment of the general industry outlook found claim denial rates are at an all-time high, with 33% of surveyed hospital execs reporting concerns they are entering a "denials danger zone," where rates grow to 10% or more.
Estimates put the cost of reworking denials as high as 20% of rev cycle expenses, because on average they're cost 4x as much to process than the initial claim. With so much strain already present on providers' resources, many are turning to automation to ease the burden.
How automation elevates the process
Once a provider has been notified of a denied claim, steps are taken to identify whether or not it can be appealed. Many of the errors that cause denials come down to administrative issues that took place at the start of the claim lifecycle.
A recent analysis found 86% of the denials processed between July 2019 and June 2020 were avoidable. Analysis indicated that many of those issues stemmed from front-end errors related to benefit information, coverage detail and shortcoming related to missing or invalid claim data.
While there's a wide mix of problems that could cause a denial, with different providers experiencing a diversity of challenges depending on their location and patient population, they all face a common hurdle: the burden manual denial management and appeal procedures put on administrative staff.
Like many other administrative processes, providers for the most part rely on a mix of manual and electronic procedures to handle denial and appeal management. But the industry's continued reliance on manual procedures is beginning to have a negative effect.
Why denial and appeal management solutions are key tools for providers
Studies have found that it costs about $118 in reworking fees to appeal a denied claim. These costs are exacerbated by the industry's overall reliance on manual processes—a systemic issue many recognize yet fail to capitalize on. Indeed, while many providers see the promise automation can deliver on, they still face a number of considerations before pushing forward with implementing an automated solution.
And automation is a hot topic for providers for a very good reason—studies have demonstrated the US healthcare system could save as much as $16.3B by automating old or outdated processes. When it comes to denial and appeal management, the benefits are far reaching, from improvements to productivity and a reduced strain on resources, to huge boosts to claim accuracy and revenue recovery.
What to look for in a denial + appeal management solution
Leading-class solutions offer a wide selection of tools to provide a comprehensive approach to denial and appeal management, using customized, exception-based workflows to streamline the entire process and overturn a sizable increase in denials.
The appeal toolset a solution offers should make it easier to coordinate and use the info and data necessary to automatically process appeals and recover cash that would otherwise create productivity issues or unnecessary fees.
The solution's ability to prioritize appeals based on cash value automatically lets staff concentrate on tasks that actually demand their attention, supporting them with additional tools like automatically generated payer-specific appeal forms and robust analytics capabilities that allow you to track and measure progress and problem areas.
Keeping disruptions at a minimum is key when considering your solution as well, so consider its ability to work effeciently with your existing systems and look for a partner that can demonstrate a strong history of seamless integrations.
Wrapping it up: why denial + appeal management solutions matters
A recent Waystar survey found 76% of providers categorized denials as their biggest RCM challenge. And the wider picture of healthcare reflects an industry struggling to solve a long-standing problem with manual processes and few answers.
Implementing an automated denial and appeal management solution is quickly becoming the optimal path forward for most providers, even if many have apprehensions about committing to the switch. But as new innovations cut down on the resources and time needed to implement the tech, the time is quickly approaching where the switch will be easier, and more vital, than ever before.
Want to see how Waystar can transform your approach to denial and appeal management with cutting-edge technology that can fully unify and simplify your rev cycle? Click here to learn more.
Find this post helpful? Check out the last post in this series on prior authorizations.