Tech Terms 101
A simple guide to AI, predictive analytics + automation in healthcare
Today, automation in healthcare drives the whole rev cycle, from auto-generating patient estimates to auto-posting payments. But one thing prevents leaders from harnessing the power of automation in healthcare: terminology.
Did you know that 60% of CFOs and rev cycle leaders mistakenly think RPA is a form of AI? Mistakes like that are easy to make, especially when you need to decide now which types of automation in healthcare will move the needle for your organization.
Unlock AI, analytics + automation in healthcare
In our easy-to-grasp guide to tech terms, we break down artificial intelligence (AI), predictive analytics, and automation. Then we tell you exactly where you can use each in your own rev cycle.
What's inside
1

Simple definitions of AI, predictive analytics + automation in healthcare

2

Clear explanations of machine learning, robotic process automation (RPA) + data mining

3

A breakdown of exactly which part of your rev cycle you can automate with which technology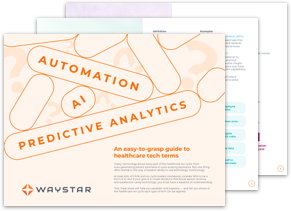 Download the guide
How can automation in healthcare work for you?
We'd love to show you. At Waystar, it starts with one platform. Our award-winning smart platform empowers health organizations to simplify healthcare payments, all through a single, cloud-based experience.