Patient Insights
Gain a deeper understanding of health
Where people live, how they get around and a host of other factors all affect individual health. Yet these social determinants of health (SDoH) aren't consistently captured in standard electronic health records (EHRs). As the industry moves toward value-based care, clinicians and revenue cycle professionals must work together to collect and use patient insights to improve the model of care.

With Waystar, you can evaluate a patient's SDoH before the point of care—without prior clinical or claim information. By digging into data at the population and individual levels, our revenue cycle management technology can help you understand and manage patient risk, equipping you to deliver better health outcomes and improve your organization's financial performance.
Get in touch
The building blocks of health
Multiple studies have shown that the biggest influence on an individual's health isn't clinical care, but rather social determinants such as food insecurity, housing stability and access to transportation.
By understanding the importance of—and gaining deeper visibility into—non-clinical factors that influence health, providers can develop the services and care plans needed to help mitigate them, ultimately improving resource allocation and financial success in value-based care.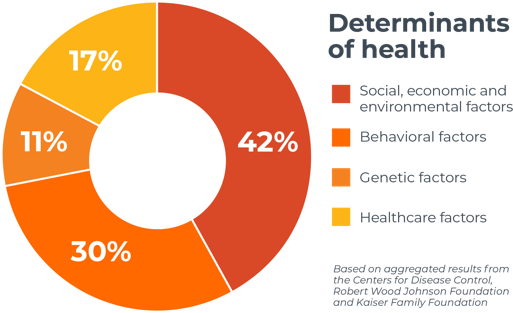 Estimate the benefits of Social Determinants of Health
Use our simple calculator to see what your organization could save by using Waystar's Social Determinants of Health calculator.
Calculate now
Get insights into SDOH
To learn more about social determinants and how you can use our predictive analytics to identify previously unknown patient risk, explore the resources below.
Just a few of our clients