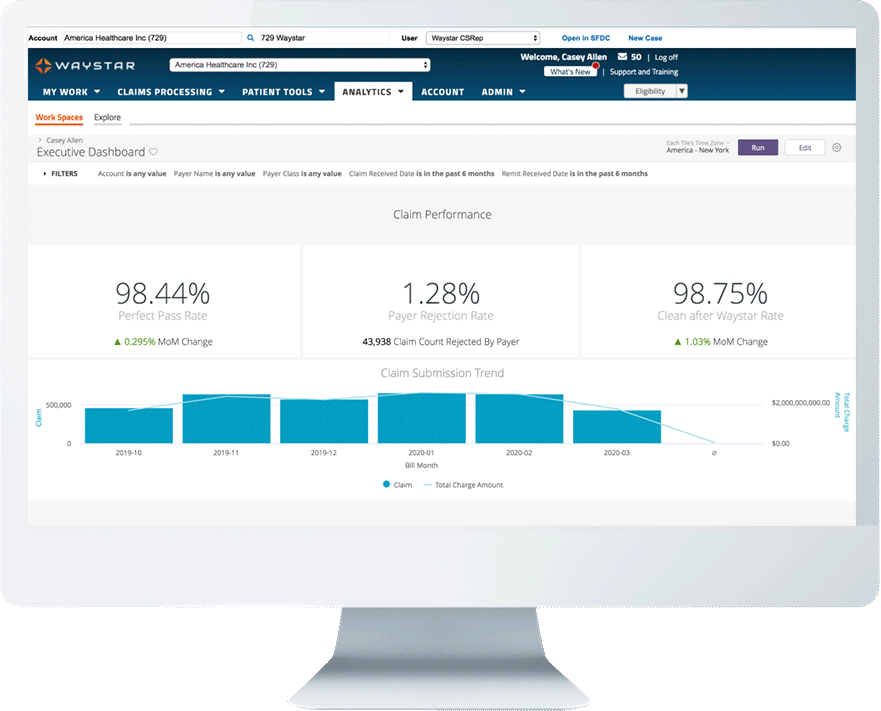 Harness

the power of your data

No matter the size of your healthcare organization, you've got a large volume of revenue cycle data that can provide insights and drive informed decision making—if you have the right tools at your disposal. Waystar's new Analytics solution gives you access to accurate data in seconds. Generate easy-to-understand reports and get actionable insights across your entire revenue cycle.
Watch video
There's never been a more critical time to keep your organization running smoothly,
so we're offering Waystar Analytics with no payments until September 30, 2020.*
*Signed analytics contract required by 6/30/20. Requires Waystar claim management subscription. Other terms and conditions may apply.
ELEVATE

YOUR ANALYTICS EXPERIENCE

93% of healthcare executives say they are looking for improved data analytics, but most organizations are hampered by reliance on IT and analytics tools with limited capabilities. Gathering data can be difficult and time-consuming, rev cycle data isn't always prioritized, and results can be hard to analyze. Waystar Analytics puts rev cycle reporting at the front of the line and does all the heavy lifting. With our new solution, your team can get:
Fast, seamless access to all your meaningful KPIs and revenue cycle metrics.
Easy-to-use data visualization and analytics tools that ensure all team members are only a few clicks away from the insights they need.
A deeper view of combined historical data sources to better understand and proactively explore rev cycle performance and trends.
Automated alerts, reminders and shareable reports that promote team collaboration and quicker resolution.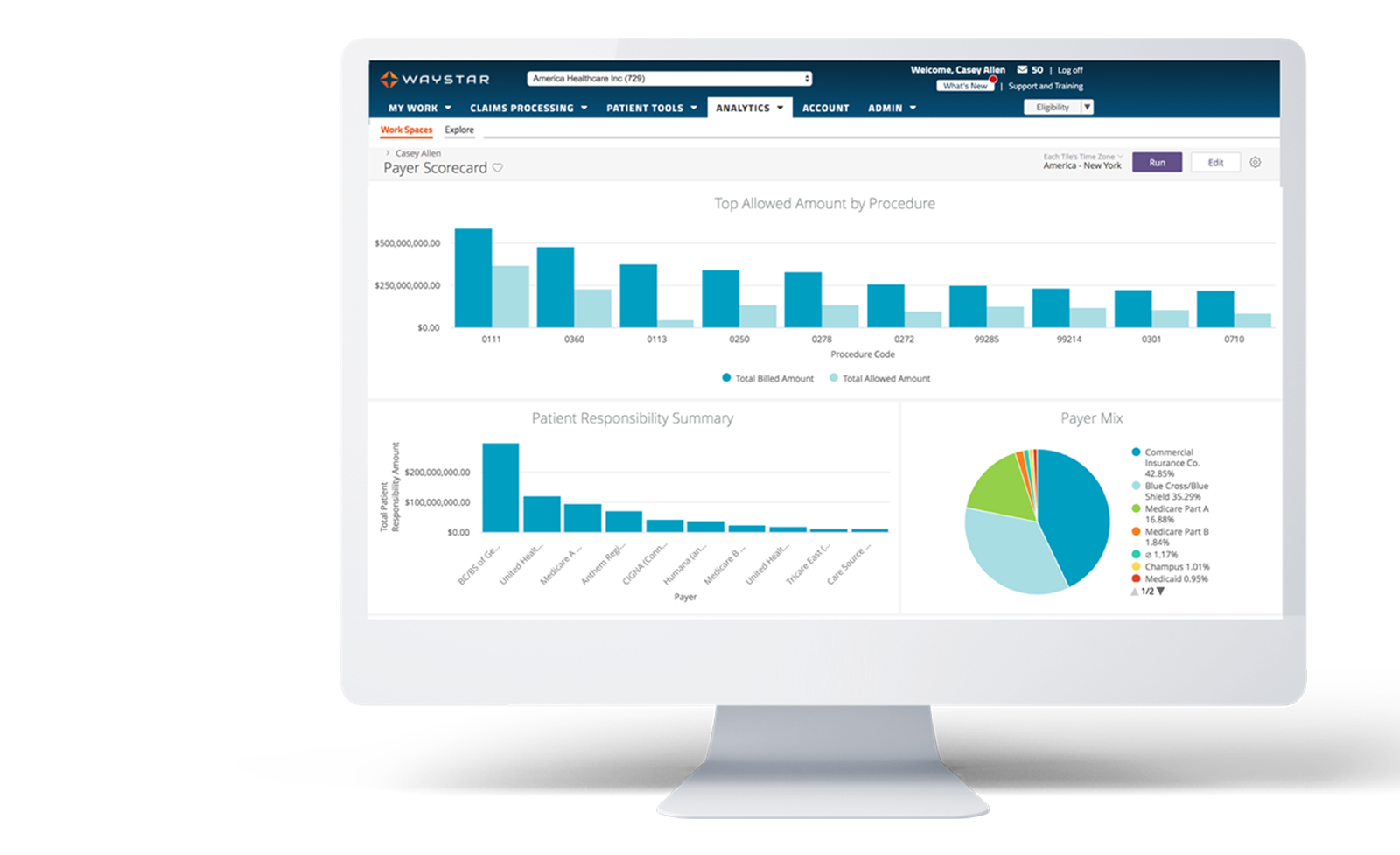 Analytics
+

business intelligence your way

Select one of Waystar's two Analytics offerings, each with features that can help drive growth for your organization. Analytics Pro can be activated in seconds, offering built-in reports and advanced KPIs. Analytics Peak delivers all the benefits of Pro, plus unlimited dashboard and report customization tools. Both solutions offer all the data you need in one place with the flexibility to personalize visibility across the revenue cycle. Talk to a Waystar expert about which tier is best for your team.
| | | |
| --- | --- | --- |
| Expanded claim lifecycle visibility through date tracking and proof of timely filing reports | + | + |
| Dynamic, interactive, easy-to-use data visualization tools that allow for a deeper understanding of your rev cycle | + | + |
| Your data unified on an end-to-end RCM platform | + | + |
| Unlimited custom dashboards + reports with simple, yet robust BI tools to see and explore the data your way | | + |
| Tailored insights with custom defined calculations, definitions and KPIs unique to your organization | | + |
| Ad-hoc data analysis tools for deeper insights into every facet of your revenue cycle | | + |
| | | |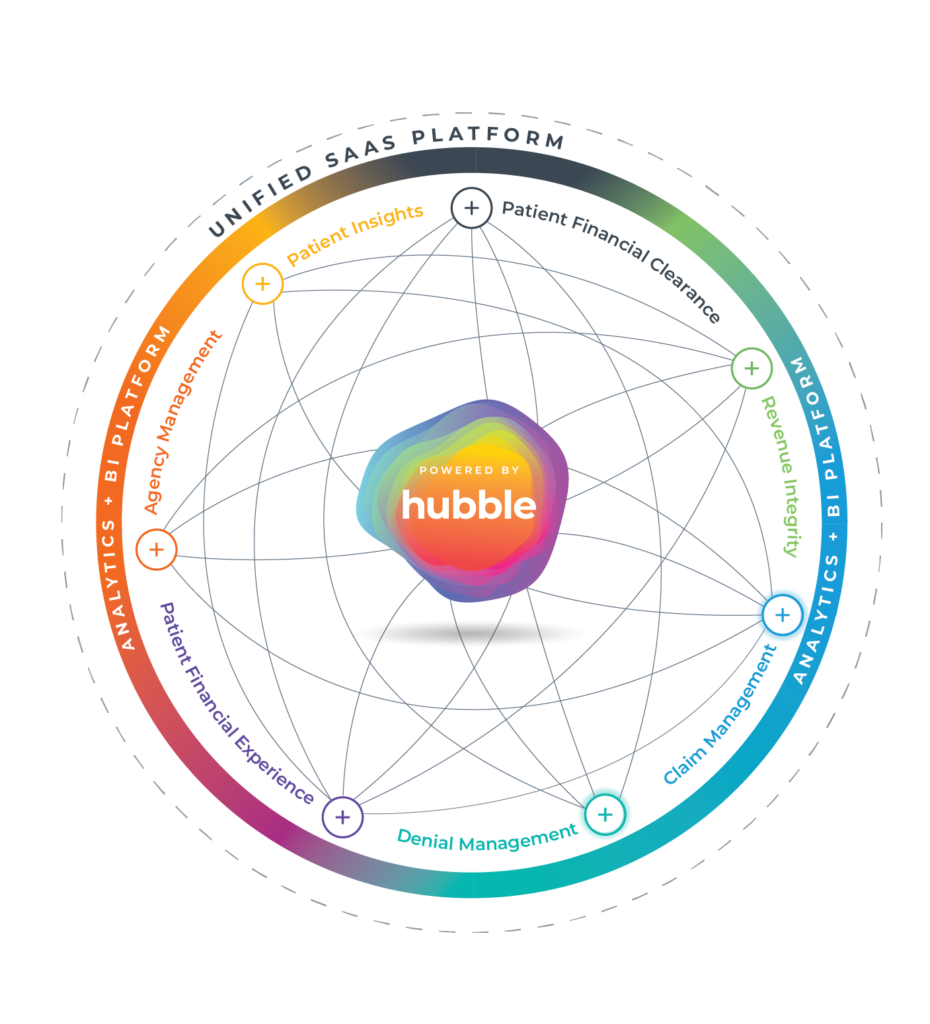 LOOKING TOWARD THE FUTURE
Powered by Hubble, AI + RPA capabilities continue to rapidly expand automation across Waystar's unified platform. Together, Hubble coupled with our Analytics and business intelligence solutions represent the next leap in revenue cycle technology.
Dig deeper

into analytics

Looking for more information about how Analytics can make your staff more efficient? Check out our resources below or click below to watch our short video.