Checklist
Choosing the right RCM vendor for automation success
If you're exploring automation for your revenue cycle, selecting the proper vendor isn't just a step of the process — the decision can make or break your success.
Artificial intelligence (AI) and robotic process automation (RPA) have the power to minimize manual work, cut costs, and free up staff time to focus on higher-value tasks. However, to be effective, the technologies must be built on a strong, strategic foundation.
Discover how to frame the conversation with a potential vendor, so you don't sell yourself short when investing in your health organization's automation technology.
What's inside
1 Lead the conversation + set clear expectations with potential vendors
2 Identify if the automation offered is purpose-built for your uses
3 Learn what data will be training models + guiding your workflow
4 Determine if the vendor is the right fit for your organization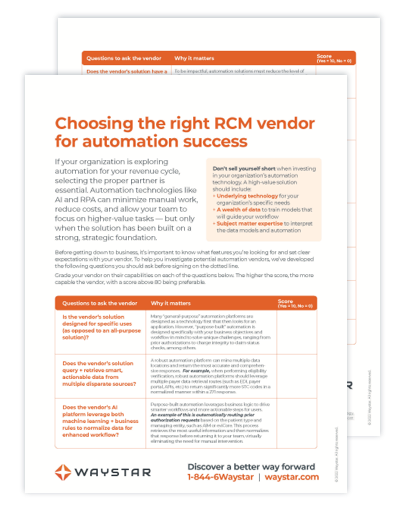 Download the checklist