It was an exciting few days for us at HIMSS19 in Orlando! With more than 42,500 attendees at this year's conference, we enjoyed many conversations with industry peers and gathered valuable insights along the way:
Health systems understand that customizing the patient experience can improve engagement and help achieve better clinical outcomes. Many are implementing more consumer-centric technologies to automate patient-facing processes and increase patient retention.
Artificial intelligence was a hot topic at HIMSS19. Health systems and hospitals are using AI and web bots to drive administrative efficiency.
As the healthcare industry moves away from manual spreadsheet reporting, the need for customized self-service functions and turnkey reporting is greater than ever.
Executive focus group
This year, we had the opportunity to host an RCM focus group for healthcare executives and key decision makers. Here were just a few points of discussion:
Improving the patient financial experience: It's critical that providers measure patient interactions in ways that inform operational processes and improve visibility across the organization. Some key metrics to track: ratio of calls to statements and statements to visits, percentage of upfront patient collections and percentage of on-schedule payment plans.
Focusing on denials: With growing emphasis on denials, many providers are forming denial steering committees, but they're struggling when it comes to execution. It's critical to get the right people in the room, help others in the organization understand why issues are being seen on the back end and identify what can be done to solve them.
Keeping collections in-house: With sophisticated technology and more efficient workflows, providers can bring a larger percentage of collections in-house and reduce their cost to collect.
Podcast: This Week in Health IT
Also during HIMSS, our CEO Matt Hawkins sat down with Bill Russell of This Week in Health IT to discuss a variety of pressing topics in healthcare and RCM. They covered everything from the consumerization of care and importance of gathering social determinants of health data to the current M&A boom and what healthcare may look like in the years ahead. Listen to the full episode here.
Event recap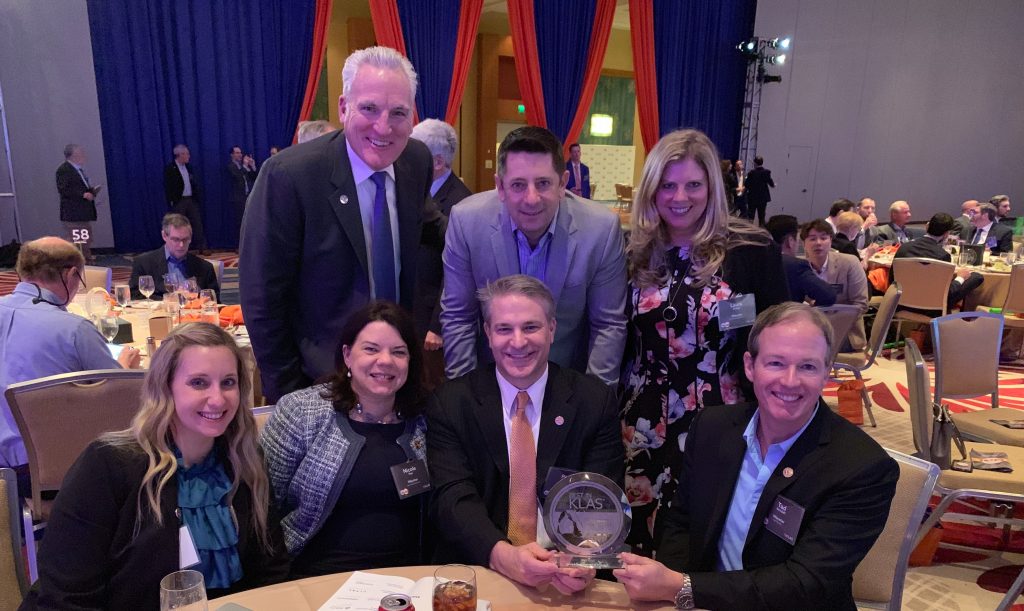 We kicked off the conference with the KLAS reception, where Waystar was honored for our #1 ranking in the 2018 Best In KLAS Software and Services Report for the claims and clearinghouse segment. We were also proud to receive two awards from Black Book Research: 2019 Highest Customer Loyalty and 2019 Highest Client Satisfaction.
This year, our booth design reflected the new visual identity and brand messaging we unveiled with the launch of our refreshed website. Booth attendees entered to win a Peloton Tread and a high-performance, foldable Oru kayak. Congratulations to both of our winners:
Peloton Tread: Robbie Scott, Director of Applications for Pikeville Medical Center
Oru kayak: Kara Marx of Sharp Healthcare
On Wednesday evening, we hosted a poolside reception at the Hyatt Regency Orlando. Even though it was cooler than we were anticipating, the night was filled with great conversation, delicious food and a bit of break-dancing.
Until next year!
We had a blast at HIMSS19. Thanks to all those who stopped by the booth—we look forward to seeing you next year!