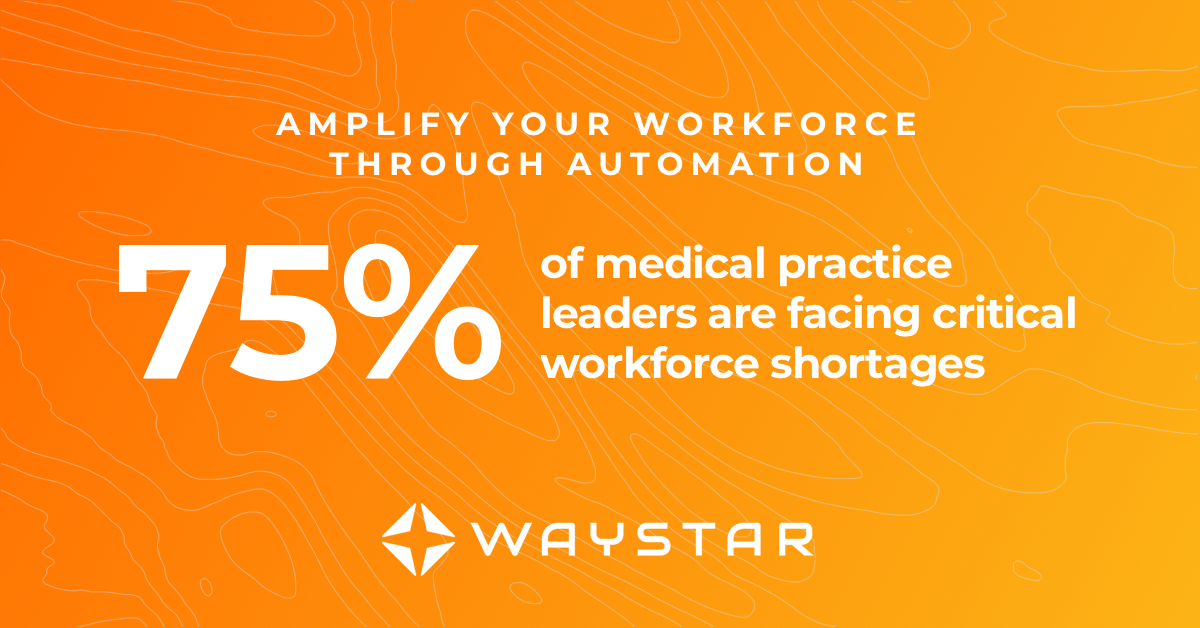 "Automation" and "RPA" are buzzwords that seem to promise big results in revenue cycle management (RCM)—but is the technology underdelivering? Let's journey beyond the jargon to ask the right questions and evaluate the real value behind automation in healthcare.
How RPA got a bad rap
Disappointment and a knowledge gap around automation technology in RCM have come to light in recent insights from the Healthcare Financial Management Association.
Some healthcare financial executives shared that they didn't see the hard-dollar return-on-investment they expected from robotic process automation (RPA) technology.
Is it true that automation isn't performing up to par…or is something else plaguing RPA's reputation?
"The market is likely overselling and simultaneously under-recognizing RPA's potential for ROI," said Christine Fontaine, solution strategist with Waystar. "Some technology vendors without direct revenue cycle experience may be measuring the wrong indicators or failing to account for other changing variables."
Muddled measurements aren't helping revenue cycle leaders who are looking to justify automation projects—especially with workforce challenges at an all-time-high.
Automation benefits beyond the obvious
While there are disappointed health executives, many others can counter them. Healthcare organizations with experience using RPA technology understand that automation has a multitude of benefits—it's just that some are quantitative, and others are qualitative, making them harder to measure.
Healthcare revenue cycle teams can craft an approach for strategic innovation and long-term results by taking a comprehensive look at ways that RPA can be leveraged for process automation:
Less time spent on manual administrative tasks, freeing up your workforce to focus on complex, skilled tasks
Higher employee satisfaction due to manageable workloads and fewer mundane tasks
Elimination of human error through data standardization
Expedited and enhanced communications, which leads to higher collections and revenue
A 24/7 virtual workforce, expediting the revenue cycle process at all stages
Fewer costs and expedited repetitive, transactional processes
At a time when 75% of medical practice leaders are facing critical workforce shortages—including RCM staff—technology that results in smoother processes and a more engaged workforce should be a top value.
"Efficiency has never been more pressing," Fontaine said. "Today's highly constrained and competitive labor market is adding considerable urgency."
Factors for revenue cycle automation success
Automation is only as good as how it's built and what it's being applied to.
"We all know the importance of 'good bones' in a house," said Fontaine. "In order to ensure longevity and the ability to easily maintain and update your home over time, the foundation and structure are critical."
To build a stable foundation for revenue cycle management automation in your organization, it's important to get a clear understanding of the terminology. RPA and artificial intelligence (AI) don't mean the same thing, but they are often used interchangeably, leading to unrealized expectations. Truly knowing the difference will plan better for the future as you invest and implement.
Next, it's important to choose the right partner. Anyone can access machine learning models such as IBM Watson, Google and Stanford Online. But how your future partner takes that model and trains it is what makes automation and machine learning successful. Ask your revenue cycle management technology partner about their data. You need extensive data to train models, which helps leverage machine learning, other forms of AI and RPA.
It's also vital to your RCM automation success that you find a technology company that staffs prior healthcare revenue cycle leaders. They will bring first-hand knowledge of the challenges that providers face and be able to validate what the model finds, what the model should do, and—perhaps even more importantly—what the model should not do.
"The true factor to success in the industry is in the knowledge space," Fontaine emphasized.
RPM + AI solution for RCM
Waystar's robust AI and RPA platform empowers healthcare organizations to automate manual work, gain insight into processes and performance, and ultimately collect more revenue. Our team brings decades of experience leading highly successful companies in RCM and healthcare. We're always searching for new and better ways to solve your challenges. Schedule a demo here + see how our experts can help you put these strategies into action.
Find this post helpful? Learn more about the impact of automation.