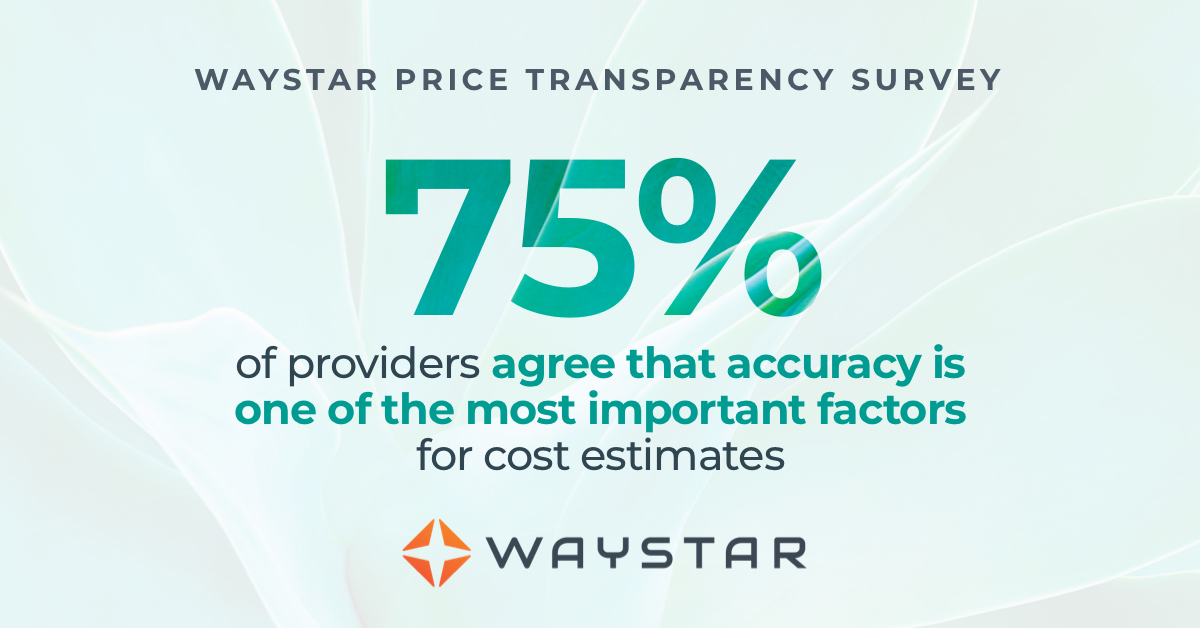 Collecting point-of-service payments can feel like a huge hurdle. From changing medical coverage to an increase in high-deductible health plans, patients are now responsible for a larger portion of healthcare costs more than ever.
To keep your organization and revenue cycle operating smoothly, it's important to have all the right tools in place so patients understand their financial responsibility. Then, when it's time to pay, patients feel empowered to own their share of the cost.
By having targeted point-of-service strategies in place, you can improve the patient financial experience and, in turn, drive more revenue up front.
Cost estimates: Accuracy matters
A clear estimate is the foundation for patients truly understanding their financial responsibility. Because patients crave trust and transparency throughout their healthcare journey, an estimate is only effective if it is highly accurate.
In fact, in a recent Waystar Price Transparency survey, three-quarters of providers agree that accuracy is one of the most important factors for cost estimates.
At Waystar, we understand building trust with accurate estimates is key to retaining patients and driving revenue. That's why our comprehensive, integrated platform utilizes the latest RPA technology and a vast number of EDI connections, offering enriched data and three times more information to produce estimates with industry-leading accuracy.
With easy-to-generate cost estimates that team members can view in real time, you can help patients better understand their financial responsibility, while fostering long-lasting care relationships built on transparency and trust.
In addition, our Patient Estimation tool employs data-driven technology and predictive analytics to give providers visibility into a patient's ability and propensity to pay.
With these cutting-edge features in one platform, it's easy to empower staff members to discuss patient medical costs with confidence, while delivering a seamless user experience.
Communicate before care
Once an accurate estimate is generated, how do you turn a calculated amount due into a smooth point-of-service payment? It starts by providing pricing to patients as soon as possible—before they even arrive for their appointment.
Just a simple digital communication, such as an email or notification in their patient portal, helps patients know what to expect before walking in the door.
For the 67% of patients who worry about unexpected bills, finding out the bill amount at point-of-service can be overwhelming, and could even cause distrust in your care partnership with them.
Many patients also delay healthcare due to the unknown costs. Being transparent about cost pre-service can streamline point-of-service collections and help patients keep up with their health. In addition, don't forget to give patients time to research what they owe and why in advance, with plenty of opportunities to ask questions or get clarification on price before the visit.
Having clear communication pre-service and maintaining an open, honest financial dialogue can go a long way to build trust and prepare patients to meet their financial obligations.
Focus on financial transparency
Be sure your patient access team has real-time information about insurance eligibility, estimates and outstanding balances. Your staff should have the most updated data not just to advise future patient liability, but also to provide affordable payment options for existing balances.
Train your entire team to take an honest, upfront approach to billing. By being compassionate about collections, you can better understand patients' financial constraints while ensuring consistent, fuller payments that fit their budgets.
Today, patients expect the same convenient, personalized payment experience found in other industries. That means providing:
• Simple, easy-to-understand billing statements
• Flexibility in the method of payment, such as offering Apple Pay or Google Pay
• Affordable payment plans to help patients fulfill their financial responsibilities
Combining a compassionate approach with the proper payment tools can lead to satisfied patients as well as a steady cash flow.
Find the right RCM partner
Many providers rely on various revenue cycle vendors to address different areas of patient financial liability. However, this fragmented approach can fail to identify all payment resources and negatively affect collections—as well as creating confusion and frustration for patients.
With Waystar as a strategic partner, you get the power of one, integrated platform to simplify + unify healthcare payments. Built with data-driven technology and detailed analytics, our clients have high visibility into the revenue cycle, allowing them to identify trends and key opportunities for improvement.
To help you stay ahead of the curve, our state-of-the-art platform includes:
• AI + automation technology that work together seamlessly to reduce manual work in the revenue cycle
• Efficient + accurate estimation tools, which empower your team to communicate effectively and approach patient financial conversations with confidence
• Automated prior authorizations + real-time eligibility (RTE) tools to verify patients' coverage as well as prevent more rejections and denials
• Coverage detection to uncover unknown or hidden medical coverage, which can help reduce patient liability and improve overall collections
• Charity screening with PARO's cutting-edge technology to identify patients who may need additional financial assistance
With an end-to-end platform and advanced features for financial management, Waystar helps providers focus on caring for patients—not tracking down collections.
Find this post helpful? Learn about the realities of patient payments.